Geekbench is a system performance test ( processor and memories ) . Geekbench tests the processor performance  (Emulate 6502, Blowfish, bzip2 compress and bzip2 decompress) and fractions (Mandelbrot, JPEG compress and JPEG decompress, and other) for the memory this software test ( The Read/Write speed , stream, latency etc). . geekbench is available in serval version for Mac OS X , Linux , windows and salaris.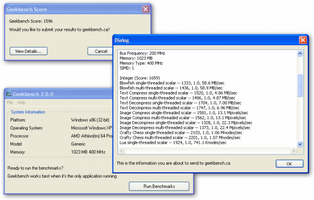 To download Geekbench 2.0  click here (1300 Kb  ,Freeware, Win2k/XP/2003/Vista/Linux/Mac OS X /salaris) 
Download It Now For Free.
geekbench