Updated xpy, a small free program adjuster, which in many aspects analogous to another program named XP-Antispy, i.e., analyzes configuration of installed operating system Windows XP and derive to user entire accessible information about all possible holes for unsanctioned access to its computer. Besides information about component, xpy gives to user the possibility to block channels of possible troubles (more than XP-Antispy). It enhance performance and security of system.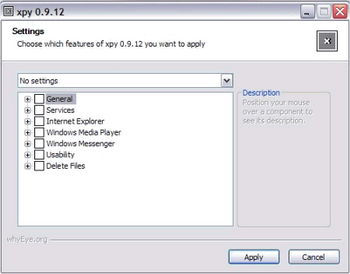 In new version new options are added, speed and operational stability are increased. 
To download xpy v.0.10.2 click the green button on download page (74 KB, Freeware, Windows XP).
Download It Now For Free.
xpy v.0.10.2