Active SMART 2.6 allow to track the state of hard disks and to predict possible failures in their work ( using S.M.A.R.T technology). This software detect failure and notify users via e-mail! . In addition , this software gives different information about hard disks, such as disk producer , UDMA mode, capacity, file system, and much more.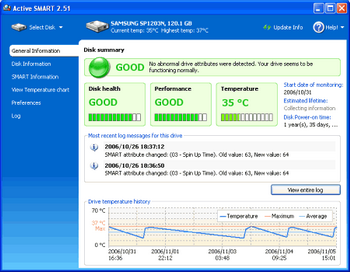 To download Active SMART v.2.62 Beta  click here (2,7 Mb., Shareware, Win9x/NT/2k/Me/XP/2k3/vista).
Download It Now For Free.
active smart v.2.62 beta