MyPhoneExplorer is a free utility that allows to easily manage the content of Sony Ericsson phone via cable, bluetooth or infrared. The program will give you the opportunity to work with an address book, manage records in the calendar, work with SMS (a backup copy, export, import, etc.) to view files on the phone, synchronize your watches, edit profiles and much more.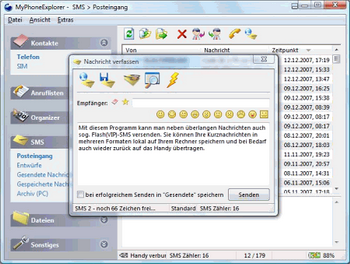 To download MyPhoneExplorer v.1.7.2 click the following link: (3,8 Mb, Freeware, Windows All).
Download It Now For Free.
myphoneexplorer v.1.7.2