CleanMyPC Registry Cleaner scans the Windows registry to detect and remove the incorrect, damaged or broken links, and records. This procedure allows you to maintain a working operating system at a sufficiently high level and to avoid unforeseen failures in the PC. There is an option to back up the registry, so you can always undo all your changes and return to the best configuration. Also, the utility allows to easily manage programs and BHO (Browser Helping Object), are automatically loaded at the launch time of Windows and Internet Explorer.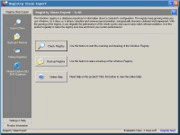 To download CleanMyPC Registry Cleaner v.4.14 click the following link: (2,8 Mb, Shareware, Windows All).
Download It Now For Free.
cleanmypc registry cleaner v.4.14