UltraDefrag is a free defrag tool for Windows NT operating systems (except NT 4.0). The program has a fast engine, able to work in graphical mode and console mode. There is an option to display the cluster scheme, supports work on schedule mode, with filters ofcompressed files. UltraDefrag is able to create HTML reports.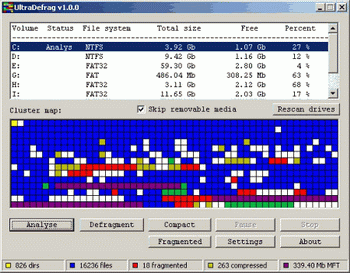 To download Ultra Defragmenter v.3.0.0 click the following link: ( 333 Kb, Freeware, Windows All/Linux).
Download It Now For Free.
ultra defragmenter v.3.0.0