FireDaemon Trinity allows you to run any application or script as an interactive service or the usual operating system Windows. Supports work with 32/64 bits projects, and various scripting languages (Java,. NET, Perl, BAT / CMD, Python, Ruby, TCL / TK, and others). The program has a convenient user interface that makes it very simple. It supports XML, there is an option to launch service on behalf of different users, work scheduling, and other useful features.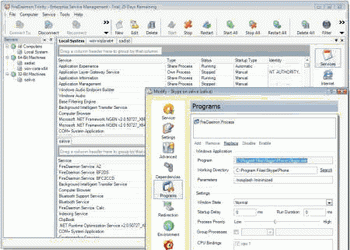 To download FireDaemon Trinity v.2.2.2651 click the following link : (7,9 Mb, Shareware, Windows All).
Download It Now For Free.
firedaemon trinity v.2.2.2651