ASTRA32 is the Windows version of ASTRA program . It allows to obtain a detailed information about processor, cache, motherboard, hard disks, CD -ROM, memory module, chipset, BIOS, PCI/AGP and ISA/PnP devices, DMI/SMBIOS, video card, sound card and network adaptor. ASTRA32 support  report and allow to export/import data.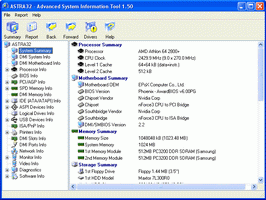 To download ASTRA32 v.2.02  click the following link: (1,6 Mb, Shareware, Windows All).
Download It Now For Free.
astra32 v.2.02