Updated Throttle for modem settings to maximize performance, as a result may lead to more than 200 percents increase in download speed. Unlike other programs of this kind Throttle is a very simple interface and small size distribution. In addition, the program works with all types of modems under all operating systems Windows.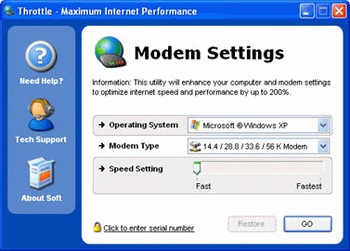 To download Throttle v.6.6.4.2009 click the following link: (2,1 Mb, Shareware, Windows All).
Download It Now For Free.
throttle v.6.6.4.2009