MyPhoneExplorer is a free utility, which easily allows to manage telephones contents Sony Ericsson through cable, bluetooth or infrared port. Program will grant to you the possibility to work with directory, to manage records in calendar, work with SMS (create copy, export, import, etc), to examine files on telephone, to synchronize hours, to edit profiles and many other.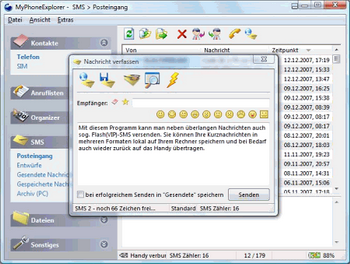 To download MyPhoneExplorer v.1.6.7 click here (3,2 mb., Freeware, Windows all).
Download It Now For Free.
myphoneexplorer v.1.6.7