New update available of PassMark performanceTest, it is a tests collection from passMark companies, which can estimate the general productivity of your computer in comparison with other computers. This program contains more than twenty seven standard tests, plus five user tests. From standart we can note processors tests, 2d and 3d graphic, HDD, memory, CD/DVD drives and others components.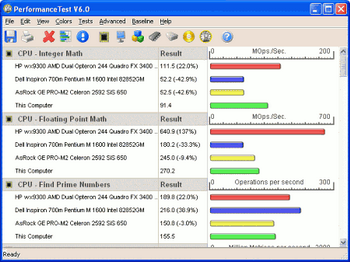 In this release some errors were fixed and improved software functionnality.
To download PassMark performanceTest v.6.1 build 1014 click here (4,6 mb., Shareware, Windows all).
Download It Now For Free.
passmark performancetest v.6.1 build 1014