RightMark memory analyzer is intended for comprehensive and precise measurement of the most important low-level characteristics (processor/chipset/memory). In the current version are included seven types of tests : average and peak memory capacity , average and minimum memory latency /cache L1/L2, associative property cache L1/L2, effectiveness of different simple decoding  instructions x86.....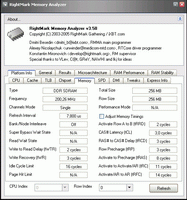 To download RightMark memory analyzer 3.8 click here (1224 KB., Freeware, Win9x/Me/NT/2k/XP).
Download It Now For Free.
rightmark memory analyzer