The company Western Digital on the results of the quarter reported a day earlier than it did the main competitor -  Seagate company.   
It is noteworthy that not the most impressive dynamics of financial performance in the quarter forced Seagate avoid in the official press release comparisons with previous quarters.  Indeed, total revenue declined from $ 3.78 billion To $ 2.93 billion. When compared to the first quarter of the previous fiscal year.  Net income was limited to $ 24 million.

CEO Steven Lucio explained that the decline in demand for hard drives from corporate customers in the last quarter exceeded producer forecasts .  It was from OEM-sector Seagate is dependent on 70%, based on the structure of revenue.  On the retail accounted for 12%, the remaining 18% accrue to distributors.  Stocks of finished goods in value terms at the end of the quarter increased by $ 160 million., Primarily because of the low demand for storage devices by corporate customers.  For the realization of these reserves products take at least two quarters.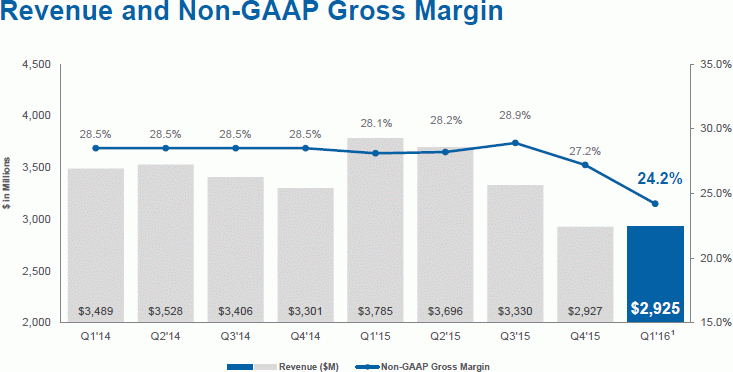 During the reporting period, Seagate has released 47.2 million. Hard drives,.  The total storage capacity of the brand reached 55.6 exabytes, and the average capacity of a single drive increased to 1176 GB.  The average selling price per unit of output was limited to $ 58.  Chapter Seagate said in a sequential comparison growing demand for 2.5-inch drives used in laptops and game consoles.  This same trend is observed and the leadership of Western Digital.

In the next two to three quarters Seagate expects to rectify their financial situation, expecting a positive effect on the completion of the merger with the core business  Samsung and other measures.  Divide increased by 17%, and that in itself demonstrates the company's confidence in its own future.  By the summer  Seagate expects  margins to return in the range of 27-32%.


Related Products :