By :hardware review
Posted:2006-05-03






xtreview is your : Video card - cpu - memory - Hard drive - power supply unit source







AMD Turion 64 X2 review : socket S1 and DDR2 benchmark overlclock
Introduction
The long lethargy of AMD seems finally finished. Indeed, except one énième variation of K8 architecture at the beginning of the year in the person of Athlon 64 dual FX-60 core, we did not have anything of nine to put to us under the tooth. This May will be different, perhaps. Indeed, AMD does it arrive with a new architecture? Not. Will AMD launch processors engraved in 65 nanometers? Either. Actually AMD draws still more on the rubber band of its K8 architecture, itself derived from K7 architecture. Indeed, on May 23 the Athlon processors 64 AM2 will unload which do not bring enormous innovations, the principal one being the storage medium DDR2 via a passage of the socket 939 with the socket 940.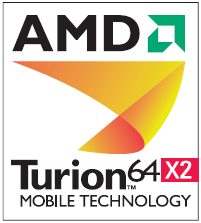 Side of the processors for portable computers, AMD did not propose anything when Intel launched the third Centrino generation introducing Intel Core Duo and Solo. The giant of Santa Clara thus found himself to only propose processors dual core in the laptops. AMD opposite had only Turion 64 which is only one Athlon 64 proposer a TDP of 35 or 25 Watts. Today, AMD launches Turion 64 X2, pushed back on several occasions. According to various rumours, this delay would have been to allot to the difficulty in reducing consumption to an acceptable level compared to Athlon 64 X2 AM2, other theories justifying this time lengthened by a morose market on the level of the sales of portable PC. But let us not mislead there we, Turion 64 X2 does not have anything again, nor of transcendent. It acts neither more nor less than one Athlon 64 X2 "AM2" socket S1 whose thermal envelope was reduced.

Thanks to a contact at a OEM, we could provide us a portable computer equipped with Turion 64 X2 TL-60 given rhythm to 2 GHz. We have decides to logically oppose it to a portable computer equipped with Core Duo, T2500 given rhythm with 2 GHz also. We thank in the passing Asus France to have lent quickly A6 Core Duo to us equipped with a graphic solution nearly identical to that assembled on the portable containing Turion 64 X2…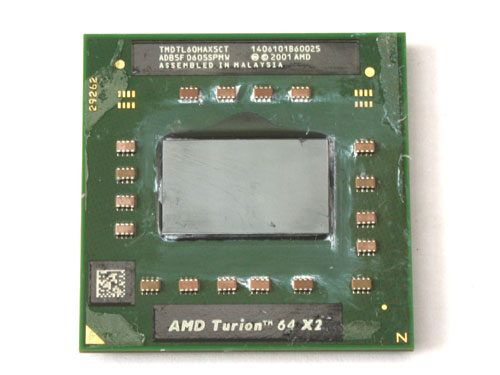 New a socket and support of the DDR2
Processors AMD Turion 64 inaugurate new a socket: S1. It is equipped with 638 pines only whereas the precedents Turion 64 (individual core) functioned on socket 754 pines. These Turion X2 will thus not be usable on the mother charts currently available of office and it is far from probable that board manufacturers mothers leave the models equipped with socket S1 since AMD will decline Athlon 64 X2 AM2 in version EE not meaning here Extreme Edition but corresponding to the versions Low Voltage of the AM2, with a TDP announced for 35 or 65 Watts according to the model.

Initially, Turion 64 X2 will be engraved in 90 nanometers, of the versions 65 nanometers being envisaged later on. Three versions are awaited corresponding to as much value of TDP: Keene with a TDP of 25 Watts, Taylor with a TDP of 35 Watts and finally Trinidad and a high TDP of 62 Watts reserving it for portables DTR (Desktop Replacement). This information however remains to confirm since today, AMD launch only Turion 64 X2 Taylor.



Our specimen of test is the processor most highly given rhythm for the introduction of Turion X2, namely 2 GHz. It names AMD Turion 64 X2 Mobile TL-60 and is equipped with 2x512 KB of L2 mask, that is to say a L2 mask by core of execution while the L1 mask is of 128 KB. Its TDP is of 35 Watts since it is about the core Taylor while its revision is the BH-F2. On the level of the supported instructions, one is entitled to the MMX (+); with the 3Dnow! (+), with the SSE, the SSE2, the SSE3 and obviously with the instruction set x86-64. In short, nothing new good compared to Turion 64 of first generation.



What is new on the other hand and which constitutes the principal innovation of processors AMD on socket AM2 and S1: the support of the DDR2 400 and 533 into dual channel. Indeed, these Turion 64 X2 have a controller report allowing the management of memory DDR2 in double channel. The HyperTransport bond on its side is fixed at 800 MHz, that is to say in terms of FSB, a value of 200 MHz. Let us finish by some figures by quoting the size of the die which is 172.1 mm ² while the number of transistors rises to approximately 153.8 million. There in terms of size, the processor in itself is smaller than Turion 64 socket 754 and approaches more than one Core Duo on this level. What strikes on the other hand, it is the size of the die compared to its Intel competitor. On the level of the chipsets compatible with its Turion 64 X2, AMD announces tiddlywinks SiS, VIA, ATI, ULi and NVIDIA.


Classification of the models
Turion 64 X2 preserve the principle of the classification of individual Turion 64 core made up for recall of two digits and two letters. Here, there is TL (Thin and Light) follow-up of two digits:


TL-60: 2 GHz, 2x512 KB of L2 mask
TL-56: 1.8 GHz, 2x512 KB of L2 mask
TL-52: 1.6 GHz, 2x512 KB of L2 mask
TL-50: 1.6 GHz, 2x256 KB of L2 mask

All are processors dual core and they support all the management of énegie PowerNow. Lastly, they all are compatible with the virtualisation which for recall makes it possible to emulate two machines starting from one only processor, so certain material conditions are respected. It will be noted that the TL-50 is given rhythm at the same frequency that the TL-52 but is equipped with twice less mask. From there with saying that AMD touches the bottom by proposing similar dual processor core, there is only one step that many will not hesitate to cross…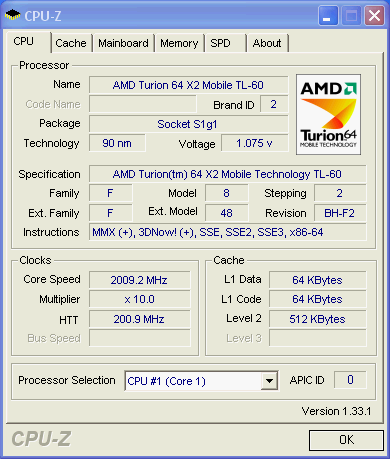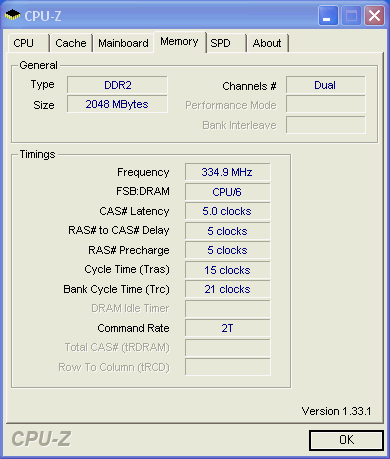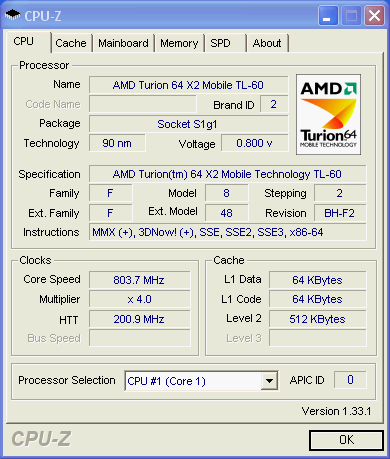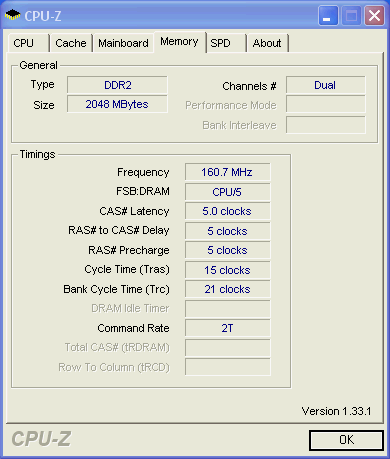 On the level of the prices, AMD announces tariffs by 1000 units going from 184 to 354 dollars, which in oneself is not expensive. Indeed, to Intel, the tariffs of Core Duo go from 241 dollars for T2300 to 637 dollars for T2600. Posted with 354 dollars, the TL-60 is positioned between Core Duo T2500 sold 423 dollars and T2400 tarifié 294 dollars.

At final, AMD arrives opposite Intel with four models Dual Core where Intel proposes six of them:


Core Duet T2600, 2.16 GHz, 2 Mo of L2 mask, TDP 31 Watts
Core Duet T2500, 2 GHz, 2 Mo of L2 mask, TDP 31 Watts
Core Duet T2400, 1.83 GHz, 2 Mo of mask L2, TDP 31 Watts
Core Duet T2300, 1.66 GHz, 2 Mo of mask L2, TDP 31 Watts
Core Duet L2400, 1.66 GHz, 2 Mo of mask L2, TDP 15 Watts
Core Duet L2300, 1.5 GHz, 2 Mo of L2 mask, TDP 15 Watts


Configurations of review
A portable Turion 64 X2 containing nForce 4
AMD Turion 64 X2 TL-60 2 GHz
Chipset NVIDIA nForce 4
2x1024 Mo of DDR2-667 5-5-5-15-2T
Graphics board GeForce Go 7600 256 Mo
Screen 15.4 inches with maximum resolution of 1280x800

At the time of a recent visit that we returned with NVIDIA in their Californian offices of Santa Clara, the firm with the chameleon recalled us his intention to propose chipsets for portable computers. It is thing made with the model that we could test since the latter is equipped with the nForce 4.410. The remainder of the configuration of this portable computer was established as follows:


Opposite, a portable Core Duet…
To obtain a comparable configuration containing Core Duet, we asked Asus to provide us a model nearest possible to our portable containing Turion X2. In an interval record, Asus could provide us A6 embarking Core Duo T2500, the same quantity of memory and GeForce Go 7600 256 Mo as on the model Turion X2. Here the configuration supplements of this Asus portable:


Intel Core Duet T2500 2 GHz
Chipset Intel 945GM
2x1024 Mo of DDR2-667 5-5-5-15-2T
Graphics board GeForce Go 7600 256 Mo
Screen 15.4 inches with maximum resolution of 1280x800
Being given the tariff of Turion X2 TL-60 is tarifié at a price located between Core Duo T2500 and T2400, we also carried out tests with Core Duo T2400 in the Asus portable.


Other configurations included
We included in the graphs of other configurations already tested in the past with the same protocol of test:

Averatec 3700


Turion processor 64 ML-40 2.2 GHz
Chipset VIA K8N800A

512 Mo of DDR333 (simple channel)
Integrated graphic solution S3 Unichrome Pro

This configuration had only 512 Mo of GDR in the portable which we had tested and it will be advisable to hold account in the benchmarks of it.

Dell M170


Processor Intel Pentium Mr. Dothan 780 2.26 GHz
Chipset Intel 915PM

2048 Mo of DDR2 4-4-4-8 (double channel)
NVIDIA GeForce Go 7800 GTX
Benchmark AMD Turion 64 X2
Compression MP3 and Ogg Vorbis benchmark
Here results obtained by our protagonists during the compression of 8 files WAV in MP3 and Ogg Vorbis: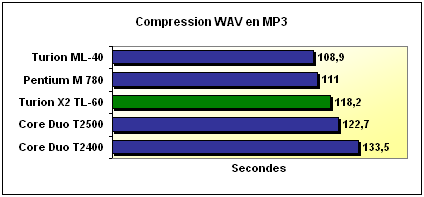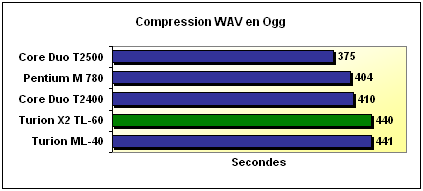 These compressions do not manage the multithread, which explains for example the first place of individual Turion ML-40 core in compression MP3. Indeed, it has a higher frequency of operation just like (2.2 GHz) Pentium M 780 (2.26 GHz) which pursues it. In Ogg compression, the TL-60 is clearly outdistanced by Core Duo whereas in compression MP3, the variation is weaker.


Compression DiVX and Xvid benchmark
Here results obtained during the compression of a video FD 72 minute old to the format DiVX and Xvid.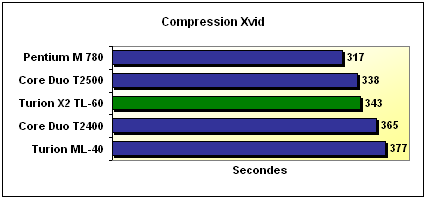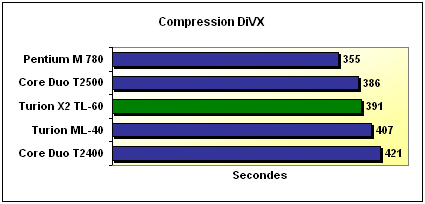 In both cases, Turion TL-60 is located between Core Duo T2500 and Core Duo T2400. It is also in front of Turion ML-40 but this last was tested only with 512 Mo of memory, which can influence here somewhat. Pentium M 780 and its 2.26 GHz on the other hand puts everyone of agreement in these tests privileging the frequency more than the number of core…
WinRAR compression benchmark
We compressed on the one hand 688 small files and on the other hand 8 large files. Here results obtained expressed in seconds: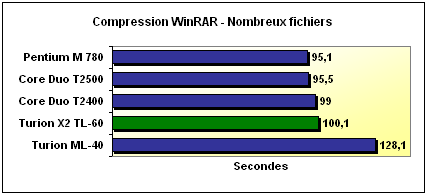 Compression with WinRAR is strongly dependent on the frequency of the processor but also of the embarked memory, which explains the performances in withdrawal of Turion ML-40 which moreover gére GDR only in simple channel, which worsens its case. Concerning Turion TL-60, one notes that it is lagging behind compared to Core Duo T2500 and T2400.
3DSMAx7 benchmark
This application is able to manage the multithread and that is noticed in the results below. Here results obtained at the time of returned of 3 complex scenes: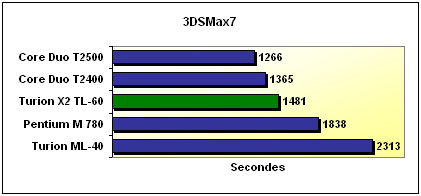 Turion X2 TL-60 is obviously with the festival compared to Turion ML-40 but owes déchanter quickly when it looks at the times obtained by Core Duo T2400 and T2500…

Specified on the tests in the plays
In these benchmarks, we will compare only Turion X2 TL-60 and both Core Duo. The reason is simple: they all were tested with GeForce Go 7600 256 Mo while Pentium M 780 and Turion were embarked in portables including of the different graphic solutions. The tests were carried out in low resolutions and without any details activated to limit the impact of the graphics board and this in order to judge the best possible possibilities of the processors.


Gaming benchmark
Aquamark 3
Let us start gently with AquaMark 3 in 640x480:

Processors AMD often were in front of in the plays. Gives seems changed with Core Duo, which will be confirmed soon in our article devoted to the test of Core Duo on platforms of office.


Unreal Tournament 2004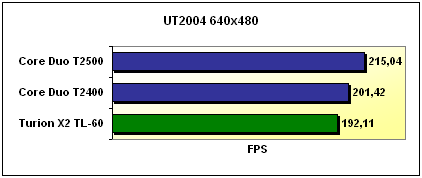 Even report in UT2004 where Turion X2 TL-60 is put at evil by Core Duo T2500 and T2400.
Far Cry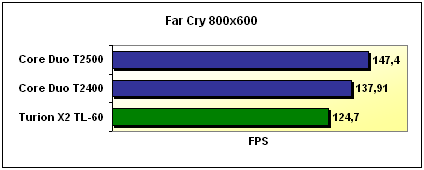 Without comments…
SuperPI: for the amateurs
Voic results under SuperPI, for the amateurs of the kind. In this exercise, the mobile processors make wonder, one knows it for a long time already:
Autonomy: preview
We entitled the title: "preview" because the portable that we received is a preproduction and it is thus difficult to be certain that the final portables will behave like ours. Moreover, these portables, although very close relations, are not completely identical. On the level what brings them closer, we have a of the same screen dimension, the same graphics board, the same memory while the hard disk and the mother chart are different. The batteries had the same specifications on the other hand. They were batteries Li-Ion 14.8 volts 4800 mAh equipped with 6 cells.

Knowing that, here the times obtained under Battery Mark 4.01 in mode conditionning run, with PowerMizer of NVIDIA regulated on maximum autonomy. We indeed did not have time to test the mode Life less greedy test for the simple one and good reason which we received the portables only yesterday and which the tests of autonomy are very "time consuming"…


Portable Core Duet T2500: 118 minutes
Portable Turion 64 X2 TL-60: 100 minutes

As it is seen, Core Duo seems to offer better an autonomy. Some share, it would not be astonishing considering the processors Core Duo have a TDP of 31 Watts against 35 Watts for Turion X2. Also let us announce that the portable embarking Turion X2 did much noise, the turning ventilator very quickly while the outgoing air via the grid of the radiator of the processor was very hot. We will however not draw from hasty conclusions on this level, the systems of cooling of the two portables being different.

What is certain on the other hand, it is that Turion 64 X2 will not revolutionize the world of the portables in terms of autonomy because even if our portable is a version of preproduction, it is not very far away from the portables which will leave soon with last mobile processors AMD…
Overclocking the AMD Turion 64 X2
we have not get any accurate result during our overclocking test. but it sweem we have a lot of stablility issue when we have overclocked this . the benchmark and overclocking result will be posted here as soon as we have enough result.Thanks for patience






xtreview is your : Video card - cpu - memory - Hard drive - power supply unit source







we would be happy to answer for your question . if you have suggestion or comment regarding this review our support would be glad to help just join our forum and ask u will get the best answer
to discuss check our forum section :-)
RATE THIS REVIEW