Radeon R9 285X graphics card was to be released after about a month after the release of Radeon R9 285, but in the end the issue was canceled  .  Most likely, this is due to the high power consumption of the GPU Tonga XT, because even based on a "truncated" Tonga PRO graphics card Radeon R9 285 consumed 190 watts.  
Graphics Photos Radeon R9 285X was published one of the members of the board Overclock.net.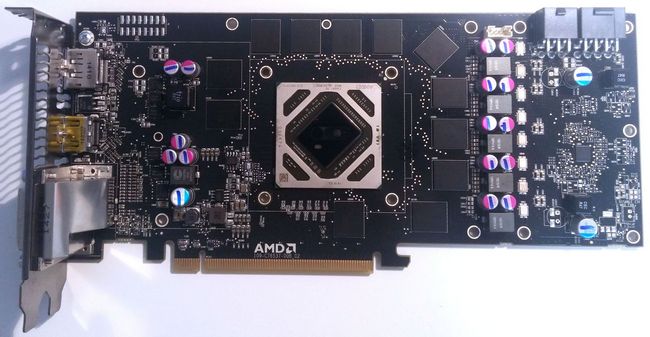 Note that the printed circuit board is equipped with a power system with 5 + 1 phase and 6- and 8-pin power connectors.
The GPU is surrounded by GDDR5 memory chips total volume of 3 GB, which supports GPU-Z validation conducted by the same user recently.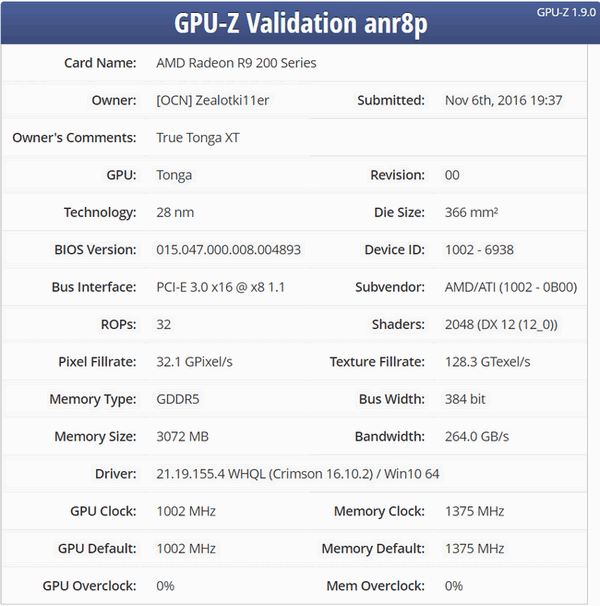 Also GPU-Z data confirm that the full graphics processor Tonga stream processor 2048 initially had 384-bit bus, but this configuration, it was not released.  In late 2014 graphics processor Tonga with 2048 stream processors, but with a 256-bit bus only appeared in video card Radeon R9 M295X composed iMac.
Also GPU with 2048 stream processors, we also have a 256-bit bus (probably for the 4 GB GDDR5) was the basis for AMD Radeon R9 380X.

Finally, the test result was published graphics card Radeon R9 285X in benchmark 3DMark Time Spy.  Here, for comparison, see the result video card Radeon R9 285.