Yesterday we already noted that Seagate company  from the last quarter decided not to publish in an explicit form the number of shipped during the period of hard drives.  Indeed, in the falling market, when only more expensive hard drives of increased capacity continue to be used by demand, only the indicators of the total capacity, as well as specific values, grow.  Seagate's revenue grew by three percent over the year, and this is quite a normal result, taking into account not the most pleasant changes for the manufacturer,.
Competing Western Digital Corporation now has every right to be considered a manufacturer of solid-state drives, although Seagate also produces them under "daughter" brands, albeit in a smaller assortment and quantity.  Buying SanDisk's assets is not likely to justify itself soon, but WDC's revenue streams have already expanded to impressive levels: to $ 4.65 billion from $ 2.82 billion a year earlier.  Operating profit increased from $ 88 million to $ 525 million, net profit from $ 74 million to $ 248 million.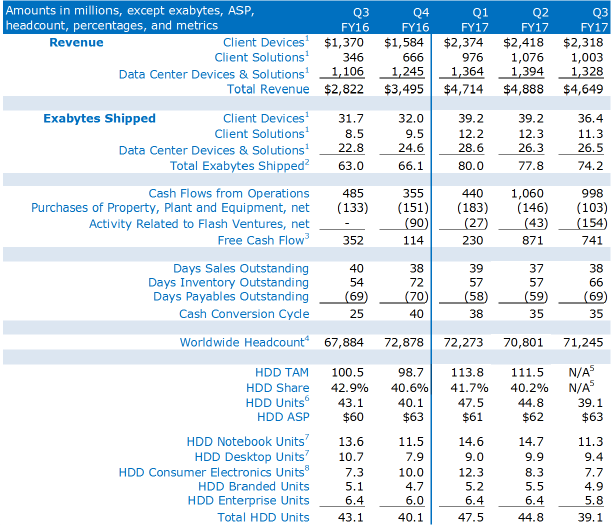 Do not hesitate to talk about the dynamics of hard drives sales volume  on magnetic plates.  In the first calendar quarter of this year, which corresponded to the third quarter of 2017 fiscal year, WDC shipped 39.1 million hard drives.  Of these, 11.3 million hard disks fell into the notebook segment, 9.4 million hard disks into the desktop, and other distributed between server systems, external drives and consumer electronics.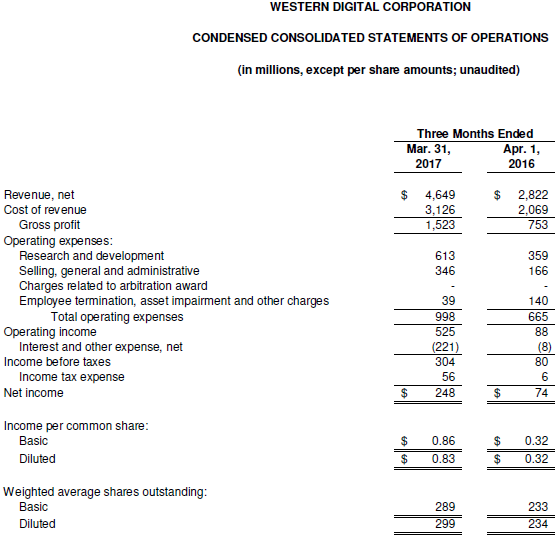 Six months ago, WDC attributed to itself control over 40.2% of the hard disk market, but now it can not even give an approximate estimate, because there is not enough data for this.    Let's not forget that Toshiba also produces hard drives, so without studying its accountability, the market picture can not be complete.

In the four years since the introduction of helium-filled hard drives on the market, Western Digital Corporation has shipped more than 15 million of this storage type   - they are offered under the Hitachi brand.


Related Products :