Universal viewer (ATViewer) is an universal file manager with a large spectre of supported types. The following regimes for files management are possible:
Text/binary/hexadecimal/unicode: any files with unlimited size (it is possible to examine files more than 4Gb);
RTF/UTF-8: RTF and UTF-8 texts;
Graphic: all basic aspect ratios: BMP JPG GIF PNG TGA TIFF, etc;
Multimedia: all media files types, supported by MS Windows mediaplayer: AVI MPG WMV MP3 MIDI, etc;
Internet: all types, supported by MS Internet explorer: HTML XML DOC XLS, etc;
Plugins: all types, supported By lister-plugins in Total Commander.
Program completely supports unicode files names and can be integrated into Windows contextual menu: click for any file, right mouse button and select "universal viewer". It is possible to integrate in many popular file managers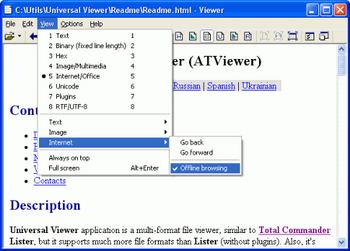 To download Universal Viewver v.3.8.5 click the following link: (1,7 Mb., Freeware, Windows all).
Download It Now For Free.
universal viewver v.3.8.5