Updated the program VirtualDub, used to capture and process video files. VirtualDub know how to read and write AVI2 (OpenDML) and multi AVI-files (to overcome the barrier of 2 GB). It has a built-in decoder MPEG-1 and Motion-JPEG, as well as allows you to connect other video and audio codecs. The program supports creation of AVI with fractional number of frames, removal and replacement of tracks, import audio from an external source, remove any fragments from video and gluing video.
In VirtualDub there is a powerful set of filters such as blur, sharpen, emboss, smooth, 3x3 convolution, flip, resize rotate, brightness/ contrast, levels, deinterlace, and threshold. Such a set of good, even for a graphical editor. In addition, it is possible to write and connect their own filters. The presence of large numbers and other useful features.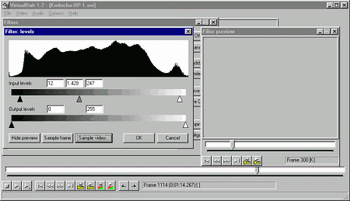 In version 1.9.1 completed rendering, improved filter changed interface fixes.
To download VirtualDub v.1.9.1 click the following link : (1,4 Mb, Freeware, Windows All)
Download It Now For Free.
virtualdub v.1.9.1