System stability tester is intended to test the processor performance and stability system using  pi calculation up to 128 million signs. This software can create up to 32 thread calculations simultaneously . On the official program site, it is possible to find the initial codes and versions for other platforms ( linux x86, Linux amd64, Linux alpha, Tru64 unix, Solaris 10/x86, HP UX 11.11i PA -RISc).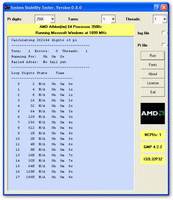 To download System stability tester  click here ( 3600 KB ,Freeware,Win9x/Me/NT/2k/XP/vista)
Download It Now For Free.
system stability tester