Company Ecamm Network announced PhoneView 2.0 release, the new program version, previously known as MegaPhone.
Program is addressed to iPhone and iPod touch owners, with its aid it is possible to browse content, stored in internal memory of these devices, including musical tracks, videotapes, photograph, note, contacts, communication SMS, calls history; during note record into computer, it is possible to convert them into file PDF, Word DOC or text.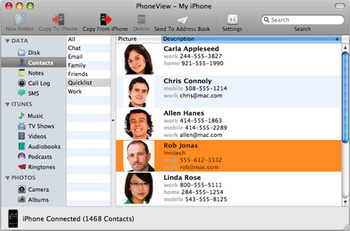 New version allows to search on content and writes changed notes into telephone, without need to reload with each change. Program now ensures direct access to contacts list and automatically are created SMS archive and calls histories.
Cost of PhoneView 2.0 is about $19,95. For its good work is required Mac OS X 10.4.11, iTunes 7.3 or higher.
To download PhoneView 2.0 click here. (2,5 Mb, Shareware, Mac OS X).
Download It Now For Free.
phoneview 2.0