Enermax Technology company is preparing to release three new CPU cooler series ETS-T40, models: ETS-T40-BK, ETS-T40-W and ETS- T40-TAV.  New items are allocated in the first place a great value for money, are equipped with quiet and efficient 120-mm fan with blue LED-backlit calculated an average of 100,000 hours with support for Twister and Speed Control by pulse-width modulation in the range of 800 to 1800 rotation per minute for ETS-T40-BK/ETS-T40-TAV in the range of from 800 to 1500/1800/2200 rpm in ETS-T40-W.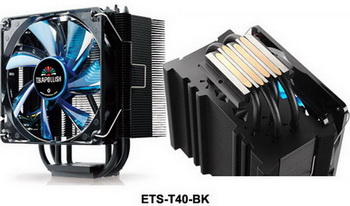 Overall dimensions of new products are as follows: 139 x 93 x 160 mm, weight - 610 grams, all three devices are related to  tower and using different technologies Heat-pipe Direct Touch, which involves direct contact with the CPU surface four U-shaped copper heat tube thickness of 6 mm each.  Massive radiators have 52 aluminum fins and manufactured in accordance with the patented concepts Stack Effect Flow, Vortex Generator Flow and Vacuum Effect Flow.  Model ETS-T40-BK and ETS-T40-W radiator are coated with a coating TCC (Thermal Conductive Coating), respectively, black and white, the coating is designed to prevent oxidation of the surface.
New items are compatible with the following processor sockets: Socket LGA775/1150/1155/1156/1366/2011 (Intel) and Socket AM2/AM2 + / AM3/AM3 + / FM1/FM2 (AMD).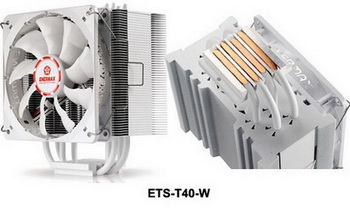 Related Products :