On the results of the third quarter  fiscal 2017, NVIDIA will report only the tenth of November, but about a month ago, It  spent the autumn meeting of shareholders, which described the progress of the current interim fiscal period.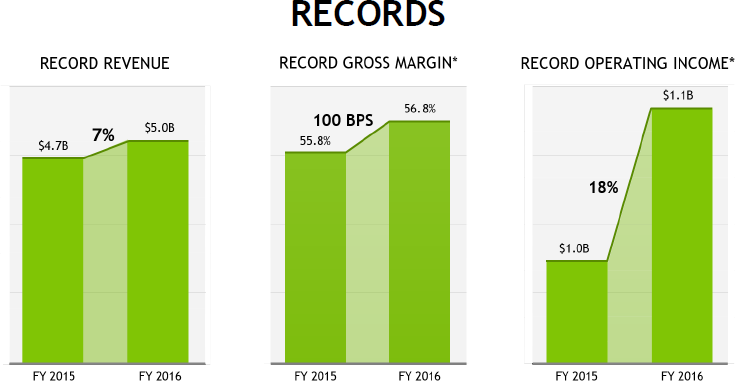 The developer of graphics solutions reminded investors, in what areas of activity it was particularly lucky, and the dynamics of public figures make it possible to record values.  In the past fiscal year, revenues increased by 7% profit margin increased from 55.8% to 56.8%, and operating income jumped by 18% immediately.  Only in the direction of the game revenue over the previous year increased by 30%, and the data center segment and automotive electronics in recent years is also encouraging sustainable revenue growth.

Negative dynamics in the OEM segment is dictated by the gradual reduction of finished computers share with discrete graphics cards, but recent gains such as "registration" in monoblocks Microsoft Surface Studio certainly will allow NVIDIA to win back some lost ground.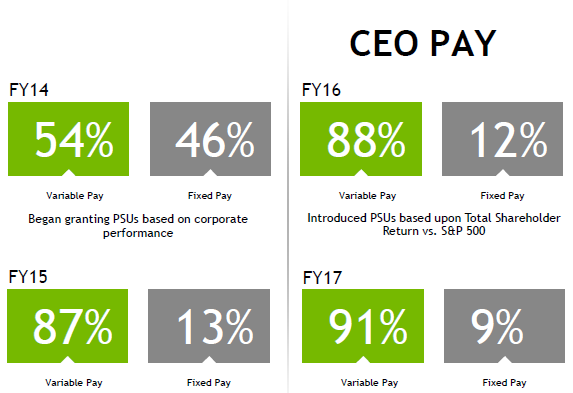 Under pressure from shareholders NVIDIA not only updated the Board of Directors, but also introduced incentive compensation structure for senior management.  So, if in 2014 the permanent NVIDIA leader received 46% of their remuneration in the form of a guaranteed amount of fixed size, now the share of "salary" was reduced to 9%, while the remaining 91% is paid in relation to the results of operations for the period.  

Related Products :