Earlier this year, MSI has introduced a compact gaming system Trident 3, and now, apparently, in the light of the popularity of the product line Arctic, a manufacturer produces a special version of the compact computer, which is called Trident 3 Arctic .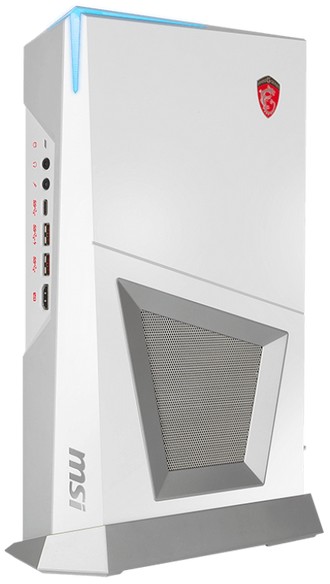 Compact system Trident 3 Arctic built on a compact motherboard-based set of Intel H110 chipset  in the processor socket which is installed productive processor Intel Core i7 7700. The board has two slots for the SO-DIMM memory modules DDR4-2400, which may take up to 32 GB of memory. The system can be equipped with a solid state drive M.2 format SATA hard drives and one 2.5-inch hard disk or SSD drive.
For graphics processing in Trident 3 corresponds Arctic MSI GeForce GTX graphics card 1070, whereas used GeForce GTX 1060 (3 or 6 GB) in the original Triden 3. The manufacturer does not specify what kind of graphics card used in the system, but apparently it is compact, the GeForce GTX 1070 Aero ITX or slightly overclocked  with OC prefix in the name. In the first case the working frequency GPU constitute 1506/1683 MHz, and the second - 1531/1721 MHz.

As I mentioned at the beginning, Trident 3 Arctic made in the case of white color, which is equipped with adjustable RGB-illumination. The case holds a capacity of only about 4.7 liters, the entire system weighs only 3.17 kg, making it an excellent solution for the so-called party network (LAN Party). The system is powered by an external 330-watt power supply.


Related Products :