Intel Corporation managed to jump into the last car leaving April with its quarterly report, having published it today.  In any case, total revenue increased 8% year-on-year to $ 14.8 billion, while operating profit increased by 40% to $ 3.6 billion. The rate of profit rose by 2.5 percentage points to 61, 8%.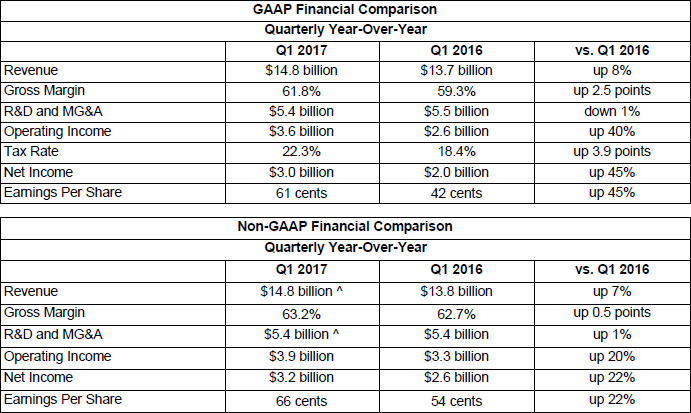 If we consider client products separately, then they provided Intel with the majority of revenue (54%).  The company managed to gain 6% more funds from the implementation of client solutions.  However, the volume of  products sales in this segment is falling in physical terms, although the average price is growing.  The same desktop components in the last quarter were sold at 7% worse than a year earlier, while the average price increased by 2%.  Sales of components for laptops grew by 1%, average selling prices rose by 7%.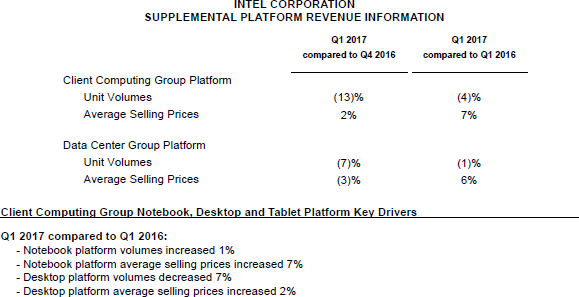 How are things going in the "promising segments" that are designed to reduce Intel's dependence on traditional components for the PC?  "Internet of things" brought in 11% more revenue than a year ago.  Solid-state memory increased revenue by 55%, although at the operating profit level, its production still brings losses to the company.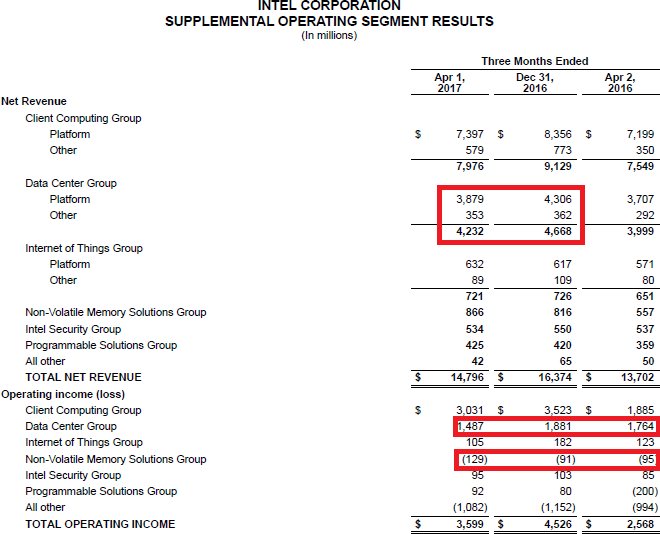 In the data center segment, Intel's performance dropped slightly compared to the previous quarter, but in annual terms, revenue increased by 6%, and average prices also increased by the same amount.  Note that in the segment of client platforms, Intel's revenue decreased by 13% in quarterly comparison, and sales volumes decreased by the same amount.  Accordingly, the total revenue of Intel in the first quarter decreased by 10% compared with the fourth quarter of 2016.

In the second quarter, Intel hopes to raise about $ 14.4 billion, to keep the profit rate at 62%.


Related Products :