By :computer news
Posted:2007-07-16






xtreview is your : Video card - cpu - memory - Hard drive - power supply unit source







A computer is a complex machine which asks for a minimum maintenance. A fan which for some reason rotate at lower rate, a heating up processor , hard disk boiling with risk of data losses are common for today computer. To avoid such problem, user has to monitor its computer temperature : using software which give access to multiple information giving notice before possible problem.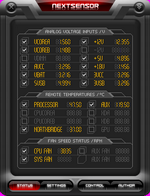 Many manufacturers, motherboard or graphics card in particular, has interest in such devices, and several of them systematically join their products with programs dedicated to component monitoring . The question here what user has to monitor ? How information comes to us ? Which application software to use?......
Monitoring, why and how?
First , what is monitoring? we could define it as the evaluation values which move in the course of time and which characterizes certain computer components operation .

Here is an example of fan able to tell about its current rotation rate.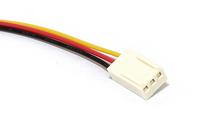 This type of connector transmits to the motherboard the number of its RPM (rotation per minutes)


Most fan and motherboard come with similar connector . Recent graphics card have also a mechanism allowing to record the chips temperature , just like the processors for several years.


Many software help in the monitoring task, including Windows tools . For example Windows tasks manager , show the current processor load , then you can see if some program is eating a lot of resource .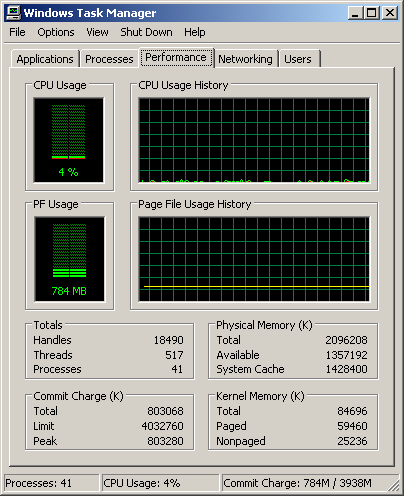 System running fine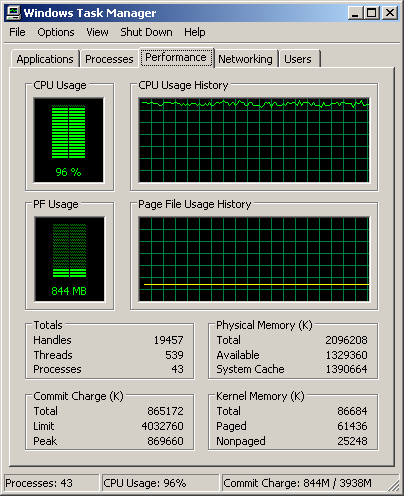 System overloaded with some application causing overall slow down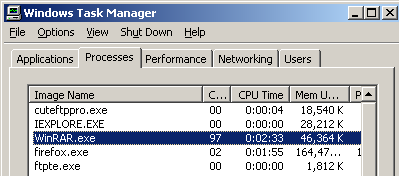 Reason for the system slow down : In this case winrar as u see witch was archiving large data
The same monitoring can be done for the memory usage ,network ....... the principle task is to optimize operation for user , detect and solve quickly any possible problem. Of course temperatures is another element to be counted in , as well as the fan speed ...


Motherboards manufacturers solutions
Asus
For Asus, we finds the applications Asus Probe II and Asus AI Suite. The first one show the supply voltages (3, 5 and 12V), processor and motherboard temperature as well as fan rotation speed. Asus Probe II show warnings written and/or sound according to your choice as soon as :

The temperatures reach higher value than the limits defined ;
Fan rotation speed lower than the value limits defined ;
Important variation (expressed in percentage) over the default voltage value (can be controlled in the program setting ).
AI Suite takes again the data of Asus Probe II, adding the processor frequency , FSB and the distributed load between core (in can of multi core processor). Note that if Asus Probe is a small application intended only for monitoring, AI Suite is more advanced application with overclocking capability.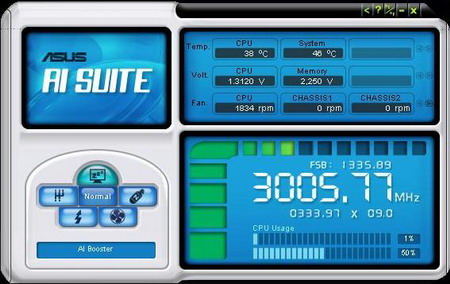 Asus Probe II and Asus AI Suite.


Gigabyte
Gigabyte propose another software called Easy Vtune 5, it is necessary for us to move directly to PC Health section located in bottom , in order to avoid many overclocking options and to reach the place witch interests us (Hardware Monitor). Here, you will be able to find the voltage values , the fan speed as well as the processor (and more precisely that external temperatures sensor) and the motherboard temperatures . There is a possibility to control critical points for these parameters above which an alarm will start (using any custom made sound file * .wav or * .mid).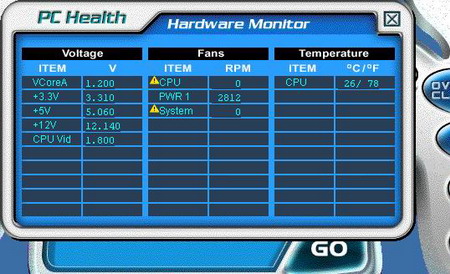 Easy VTune 5, Gigabyte dedicated software
MSI
MSI, with its Dual Core Center, allows in theory, to monitor at the same time the motherboard and the graphics card . In practice, we could not find a version of this utility which allow us to execute both at the same time. Monitoring is here (as in the majority of tools distributed by other manufacturers) strongly related to overclocking. but we still have some interesting information:

for the graphics card, the GPU, memory clock frequency , the fan speed , the supplied voltage and the card temperature ;
for the motherboard we have : the supply voltages, the processor frequency , its temperature and fan speed. Note it is possible (just like Speedfan) to control the fan speed and setting can be saved after restart .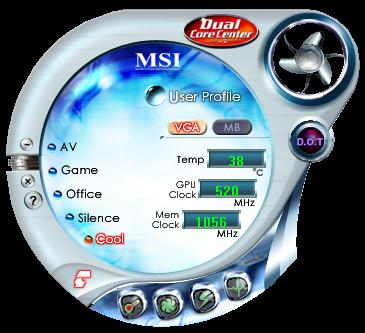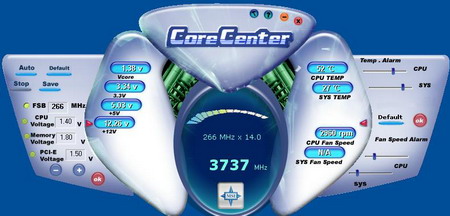 MSI Dual Core Center and Core Center
NVIDIA
NVIDIA, on its side, developed NTune for nForce motherboards , and in our today review we are interested particularly in NVmonitor. NVmonitor offers a very comfortable health status information : CPU load , memory and hard disks, GPU and processor clock frequency , FSB, memory frequency , various voltage, Fans speeds and CPU , motherboard temperatures . Let us note that Nvidia NVmonitor do not show the current hard disk temperatures but they did not forget about SMART information , and warn alarms in case of CPU or GPU overheating .



NVmonitor: NVidia made in simplicity
INTEL
INTEL finally developed for its motherboard a software called : Desktop Control Center, and for its processors Core Duo, Core 2 Duo and Core 2 Quad, famous Thermal Analysis Tool, or TAT . This application provide the internal processor temperature from various core in an independent way. It also specifies their frequencies without being concerned with possible multiplier changes . TAT also allow to stimulate the highest load in one or more core, with an adjustable percentage for each one , and then user can observe the rise in corresponding temperature. This is useful if we wants to know the maximum processor temperature .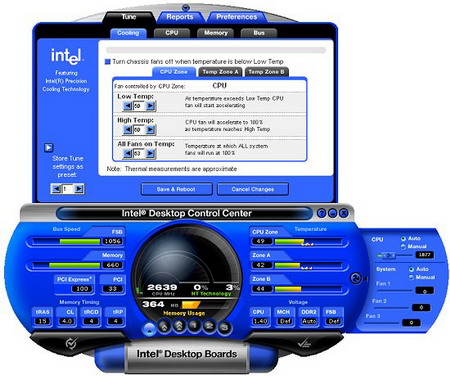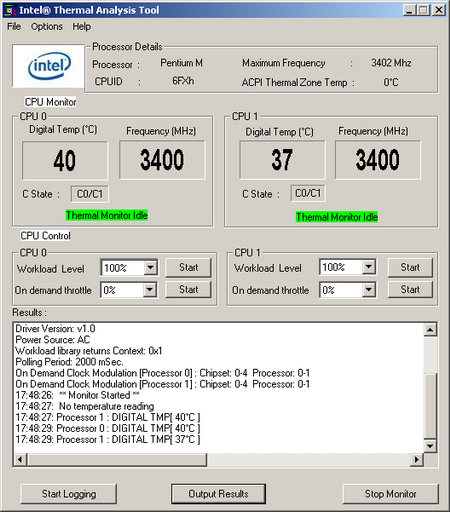 INTEL Desktop Control Center and Thermal Analysis Tool: effective tools
Graphics manufacturers solutions :

Last years when graphic card became more advanced , manufacturers start to pay attention to the temperature of their graphics card. If a graphics card presents performances lower than the standard or undesirable artifacts for example, user has to pay attention to the temperatures reached by the graphic core.


Gigabyte
Gigabyte and its V-Tuner 3 allow certainly to overclock the graphics card but also show the temperature sensor results . The value given can be shown in degree Celsius or Fahrenheit and a small graph informs users about the variation of this value in the course of time (useful to know how temperature rise after launching a game for example).



Gigabyte V-Tuner 3
Asus
For Asus, present SmartDoctor which is used at the same time for overclocking and monitoring. :

Voltage, GPU in particular, and PCI-Express ;
GPU temperatures :
Fan speed ( of your graphics card );
Note that the monitoring part of this software is accessible only for certain graphics card , in our tests GeForce 7600GS or Radeon X1600XT are deprived from it . But the overclocking module remains always available.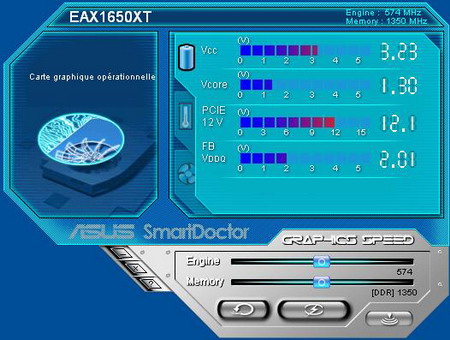 Asus SmartDoctor useful but not always available for all graphics card


For MSI, the Dual Core Center is able to monitor the graphics card temperature. Finally , we note that utilities like ATITools and RivaTuner , are able to indicate the graphics card temperature if they are equipped with an adequate chip (sensor).
A known and recognized software: Speedfan
Presentation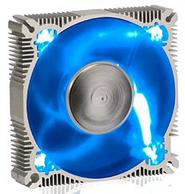 The famous software Speedfan, which is developed by Alfredo Milani-Comparetti (who began his work in 2000), is a software with the multiple functionalities:

reading temperature sensors from many motherboards and processors;
analyze (via system S. M. A.R.T.) the health of your hard disks and recovery temperatures ;
possibility, with compatible motherboards to read fan speeds and adjust their rotation according to established criteria .
read processor voltages
possibility to start an action when a condition is reached (for example if the processor temperature exceeds 50°C, it play an alarming sound );
for compatible processors (unfortunately few), it adjust the FSB according to the processor load .
Moreover it is compatible with Vista, including the 64 bits version. The correct operation of Speedfan strongly depends on your current hardware. However, the frequent updates make this program compatible with many motherboard models and about all current processors .


Installation
You can download the last Speedfan version here . The current version is SpeedFan 4.32 and can be directly downloaded from our site. After a quick install process u will obtain this screen: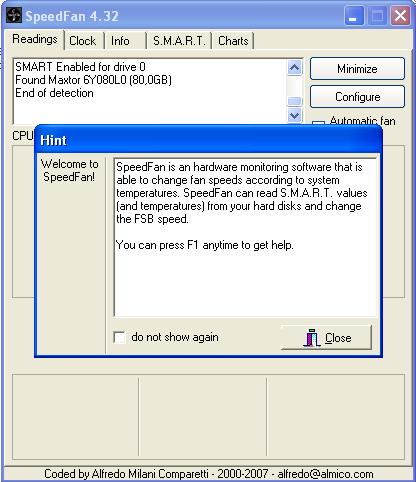 Click on configure TAB to translate all in your preferred language.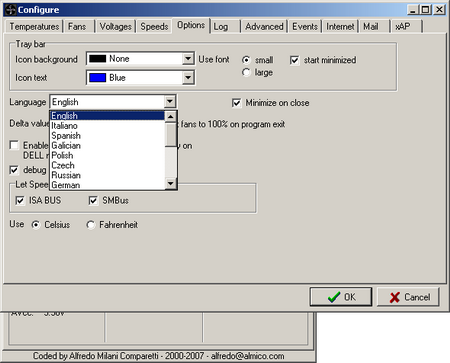 Speedfan is available in many languages



Once all small adjustment are done we ave 5 tabs:

Readings, which is the most important and on which we will return later;
Clock, which is the software part which allow to adjust FSB for certain processors. Unfortunately, only old platforms (Socket A or 478) are supported
Info, This window will inform about the nature of your components (motherboard chipset , memory latency …) ;
S. M. A.R.T., for Self-service Monitoring Analysis & Technology Reporting, this is the information about the health of your hard disks. Very useful to anticipate a possible failure .
Graphic finally, which allow to build charts from the current value temperature, voltage, fan speed ....

Thus in the Readings tab , you can obtain something like that:



The principal Speedfan window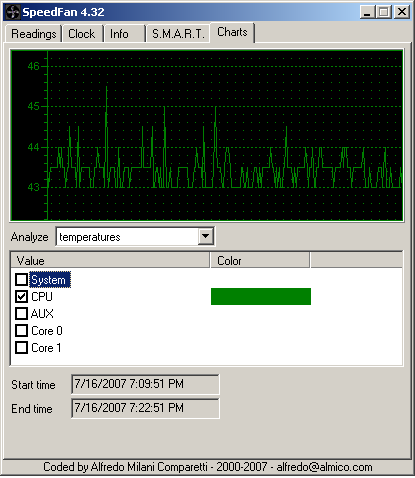 Obviously, certain sensors are badly interpreted by Speedfan here, because of 119°C temperatures do not correspond to any realistic value. even if this software is particularly powerful , there remain some errors. In these rare cases, it will be necessary to find the correspondence between the sensors and elements (processor, motherboard,…).
Configuration

Speedfan Configuration possibilities are rather large, and the options suggested answer well at the requests of the most pointed users. The first tab in the control panel brings you in the middle of software You can here:

Select sensor which interest you, after having recognized the most interesting (for example : in the column Label, HDD > for hard disks, Core for processors );
if you detected the processor sensor and the fan used to cool it (here Processor and "Speed01"), associating them will allow Speedfan to act on the fan speed when the processor temperature increases in order to control it. You can proceed in the same way with fan and hard disk temperature for example.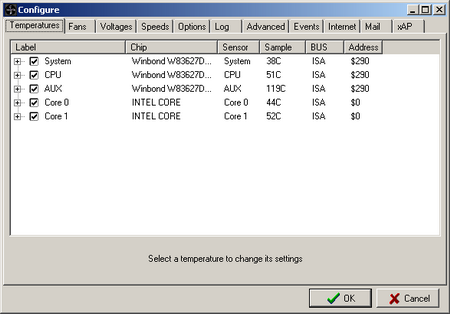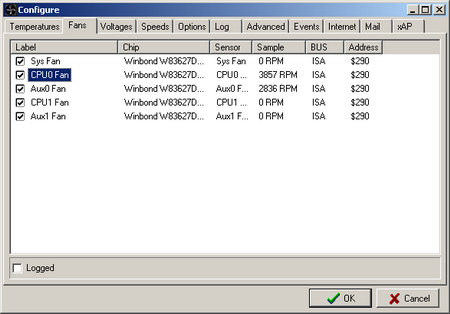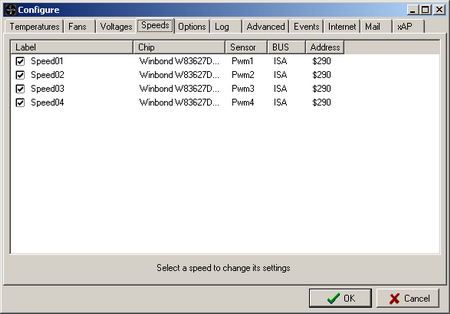 The tab fan, Voltages are respectively used for selecting fan and voltage which you wish to see in the reading window . Just like the temperatures tab , you can remove the values which are not useful . The tab speeds allow to choose the number of fan rotation which can be adjusted by Speedfan, and in bottom of this window, you will be able to define the limiting values used by the software for the fan speed , in order to control the noise and temperature (attention, certain fan could stop if you set too low rotation speed !).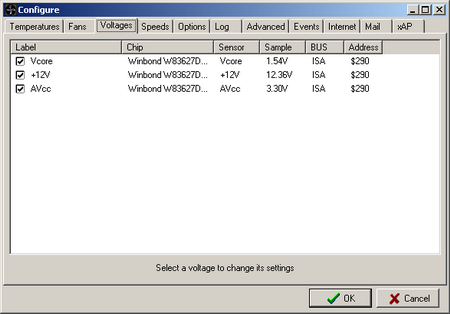 Once configured, information appears more clearly in the window of reading


The tab Options, in addition to the language choice allow to select the temperature unit (Celsius or Fahrenheit), In addition to some color and control option.

The windows Log and Advanced do not have large interest for us (the log is used to record various values monitored by the software in the course of time) . IN the events windows it is possible to start an action when a condition is met.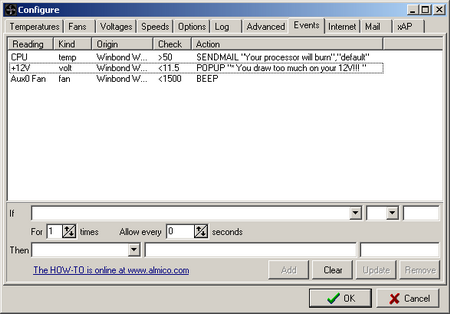 events windows with large functionality

We created some examples here :

if the temperature of processor exceeds 50°C, the software sends an email to address defined with for object Your processor will burn.
if the rail 12V is lower than 11,5V, a pop up will post "You draw too much on your 12V!!! ";
if the error rate in disc writing System is at value 125 (the base being 100), Speedfan launches Scandisk;
finally if the processor fan rotation number go down under the 1500 rp/m, Speedfan start a beep.
This type of functionalities is particularly powerful for the administration of several computer .


Other powerful Monitoring software
Motherboard Monitor

This software, known under the name MBM, is a must in term of monitoring. Unfortunately the development of this very good software was stopped in June 2004… So the correct operation of this program is strongly related to the recognition of sensor or processor.


Here is some functionalities from MBM :

Fan speed control;
Monitor processor or memory voltage ( interesting functionality for overclockers in particular);
Follow in real time (without Windows manager tasks ) the processors load ;
Have an eye on the temperature of all computer components : motherboards, processor, hard disks;
Have a sound or visual alarm programmable in event ;
Email alert ;
Start or stop program at defined temperature.
Personalize monitoring value fonts, colors…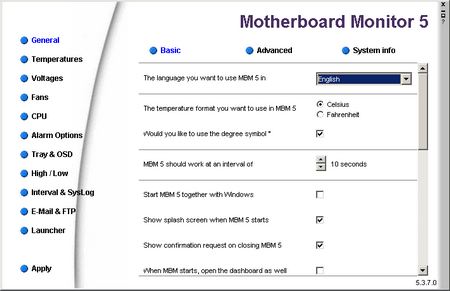 Motherboard Monitor
Programs functioning with MBM

MBM was for long time a reference with regards to sensor temperature (the author got information directly from manufacturers), so several monitoring software directly used it and of it are partly dependant. .



Among those software, We finds in particular Sysmetrix. This small program, in the line of Samurize, can be configured in a very personalized way, and show many information: the processor load , quantity of used memory , traffic inbound and outgoing, as well as the disk space. The temperature sensors are those of Motherboard Monitor, but there is not temperature of S-ATA hard disks or graphics card.

Coolmon is also one of the Motherboard Monitor children . Similar to Sysmetrix and even more to Samurize (in particular with its configuration module ), Coolmon is more successful than Sysmetrix, but more difficult to handle. The monitoring possibilities are also large , even if this software does not profit from many Samurize plug-in , which remains the reference. You can get different temperatures kinds (except for the graphics card).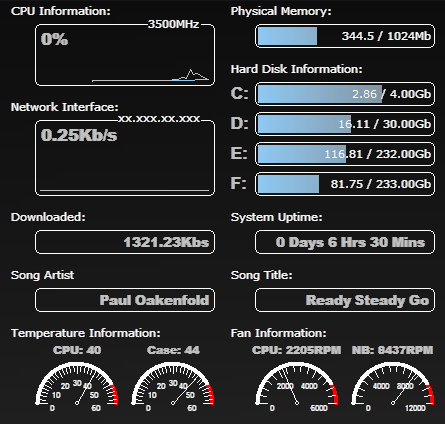 CoolMon 2, effective like Samurize
Samurize

Samurize, just like Coolmon or Sysmetrix, this software in a very flexible way show a large number of information. However, the great advantage of Samurize compared to its competitors is its facility to recover information from sensors , either by Motherboard Monitor, or by Speedfan (and even by Everest). The principle of configuration is enough complexes, but progressively becomes increasingly simple with creation . However, even if Samurize is probably the best monitoring software , do not hope to obtain a splendid monitoring in a few minutes; you will have to spend time, but the result is often good . The possibilities are pretty large , especially on the sensor level and the capacity to include images in the interface is an extremely pleasant .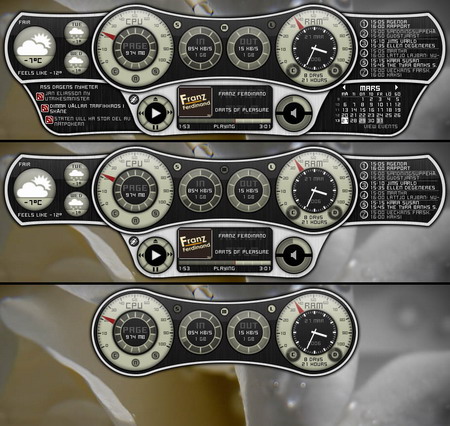 Other temperature monitoring ways

Everest, is a good software published by Lavalys, can be downloaded from our site here , its Ultimate version is free for 30 days . Everest can be used for PC monitoring, But here in different manner, since you will have to open the software window and check the temperature data.
The data brought are complete:

in the Computer TAB, Overclock, We finds the processor clock frequency , multiplier, FSB ....
always in Computer tab , but this time in sensors section , where you will find the motherboard temperatures , external processor sensor, (or if available internal : intern (S) ), hard disks temperature ; also fan speeds and various voltage (core, 3,3V, 5V and 12V). In addition if available u will get also the GPU temperature .
in the tab Motherboard, you can find all information about your Processor and Memory .
In the part Storage u will find useful information about physical Discs and SMART will bring all indications about the health of your hdd\'s;
finally in the tab Network, Windows Network, you will be able to follow in real time the traffic of your Internet connection , via lines bytes received or bytes sent.

Its direct competitor, Sandra, are available free on its reduced version XI. The principle is the same one as on Everest, and you will be able to find some performance indicators of your PC:

Click on the icon Motherboard to open access to temperature sensors…. You will be able to also check the voltage values resulting from your power supply rails;
Click on Processors to estimates the power consumption of your CPU and the capacity of your cooling system , as well as its temperature and voltage.
if you choose the icon Physical Discs , you will be able to reach the temperature page with SMART data .
finally for overclockers which would like to test the reliability of their processor, their is module that allow to load the processor to the maximum with simultaneous temperature monitoring..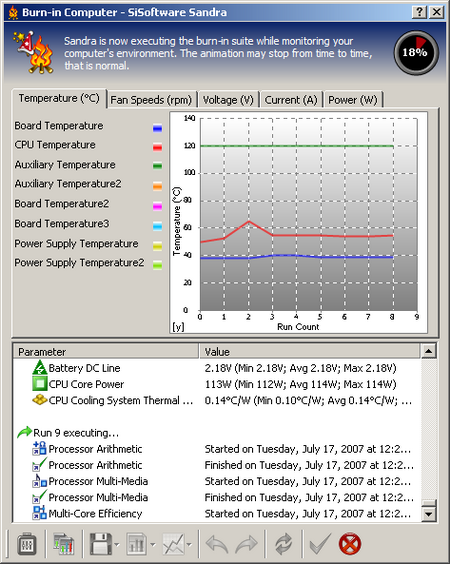 Sandra XI and burn-in module
Temperature Monitoring for overclocker

The final part in this article is for monitoring and overclocking . Two software particularly comes to us in mind , CPU-Z and OCCT.

CPU-Z can is not a monitoring software for certain people. However, this software remains reference with regards to information about the processors and show with precision the clock frequency , multiplier, FSB, bus frequency and core voltage .

OCCT, is clearly directed to overclocking, and allow to monitor the motherboard and processor temperature , as well as principal voltage (12V for example) . This monitoring takes place during the load and idle phase , and allow to validate stability of this last. The originality of this software consists in having the results in the form of graph, each one of them represent various values of the parameters chosen in the course of time.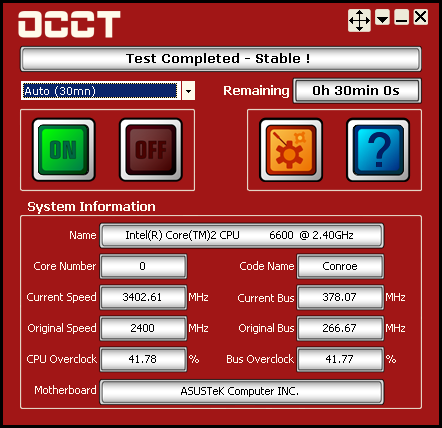 OCCT, perfect software to test computer stability with temperature and voltage monitoring
Conclusion
| | |
| --- | --- |
| Software Name | Summary |
| Nextsensor | Very good software, very light (310 KB!), centered on processor monitoring but also bringing information on hard disks, voltage or fan speed . It supports remote monitoring and has some interesting plug ins , in particular for VIA chipsets . |
| Notebook Hardware Control | Software functioning under Vista and portable computers. Monitoring hard disks (SMART) and their temperatures, manage the fan speed (to reduce noise) and processors frequency (to prolong the battery life ). |
| CS Fire Monitor | Equipped with a very beautiful interface, this software has many functionalities, divided in several modules, which is one of the most complete existing software . |
| Sam Spade | Sam Spade is software for network monitoring , which offers multiple possibilities: ping, nslookup, WHOIS, IP block WHOIS, finger, keep-alive, time, etc s. |
| Sys Monitor | A sympathetic interface , can be configured . Moreover, it functions well under Vista and Mac! This widget requires the installation of Yahoo! Widget Engine. |
| Yahoo! Widget Engine | This program allow to install a great number of small applications intended amongst other things to monitor your PC. |
Some applications of monitoring any type






xtreview is your : Video card - cpu - memory - Hard drive - power supply unit source







we would be happy to answer for your question . if you have suggestion or comment regarding this review our support would be glad to help just join our forum and ask u will get the best answer
to discuss check our forum section :-)
RATE THIS REVIEW